Lending our support to the Arts and Culture society through providing our exquisite office spaces for arts appreciation
The Arts and Culture industry has always been one that relies heavily on the physical presence of the creator and audience within the same space in order for maximum appreciation of the craft.
My SquareMetre (MSQM) Taiwan is pleased to announce a collaboration with the Taiwan Aesthetics Society to launch a pop-up exhibition in support of the arts scene as it copes with the toll from the COVID19. This partnership will enable Arts exhibitions and workshops to be conducted in beautiful, spacious office spaces. Such events include 18th Century French-style salons, which refer to events for people to congregate to appreciate intellectual delights, arts and music.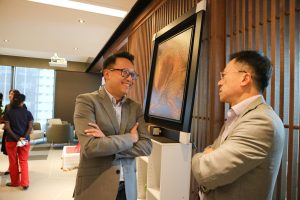 First from left: Mr Amos Chen, Managing Director, MSQM Taiwan.
"Being within the real estate industry, MSQM understands and appreciates the importance of aesthetics in informing our craft. Projects in our portfolio all showcase exquisite design, which in part draws from knowledge from the Arts. We hence see this move as lending our support for something we are passionate about." said Mr Amos Chen, Managing Director of MSQM Taiwan.
More about the Taiwan Aesthetics Society
The Taiwan Aesthetics Society was established in 2018, electing Lin as the founding president. An industry veteran herself, Lin is a collector and has 26 years of industry experience. In 2019, she gave up the chance to complete a doctorate degree in Aesthetics in order to devote energy to setting up the society.
In face of the great global upheaval brought upon by the COVID19 pandemic, chairman Lin Yu Jia, and all the board members of the Taiwan Aesthetics Society have been putting great thought into figuring out ways to adapt to support artists to keep making their art, with the support of the people. There is desire that these future pivots will also help to bring the viewing audience greater appreciation and participation in the Arts.
____
Please click on the following link to access the original chinese news article: https://money.udn.com/money/story/5635/4941475