Workplaces will have to implement increased sanitation of high-touch surfaces such as door handles, remote controllers, phones, keyboards and table tops.
How will fears of the pandemic impact the physical look and feel of offices? As people start making preparations to return to work, here's what we anticipate the new normal to be.
The Coronavirus pandemic has radically disrupted the structures of Work as we know it.
With most of the world in a state of semi or full lockdown, workspaces all across the globe are shut. Across most industries, businesses have shifted to remote working. The concept of a meeting room is no longer four walls, a table and a projected screen.
Instead, meeting rooms consist of a computer screen, a video chat with a display grid of people, and a mosaic of different wall backgrounds. Businesses have leveraged teleconferencing tools like Zoom, Google Meet and WebEx to host meetings, company stand-ups and quick team discussions.
Water-cooler banter and pantry chats have also shifted online, into chat rooms on platforms like Google Hangouts and Slack. Rapport building gestures between colleagues have shifted from in-person head nods or thumbs-up signs to emoji reactions.
But is remote working going to be the new normal?
The general consensus from several polls and opinion pieces is that the world might shift to a partial-remote work model. This means that employees have the flexibility to sometimes work from home, whether that frequency is once a week, or maybe two to three days. In other words, the coronavirus does not spell the end of office life- the physical workplace is here to stay.
The Appeal of Physical Workplaces
More than being a site to gather all workers in the same place, offices are also places where colleagues bond with each other, support each other, and brainstorm together.
While technology has been immensely helpful in these times for enabling virtual collaboration, the physical presence of fellow colleagues symbolise encouraging pillars of moral support.
With that said, workplaces as we know it will have to change to accommodate our new needs after the lockdown. Safety protocols would have to be put in place to minimise the risk of catching and spreading the virus within the company.
Here are some of key changes in the office space that employers should implement:
Reconfigure your office layout to space out your team.
Companies will need to go through a 'de-densifying' process. Long rows of desks with seats closely packed together would have to establish new seating arrangements to space people out, such as leaving a blank seat after each person.
Existing shared facilities such as pantry tables and unoccupied discussion rooms could be used to space out employees to ensure effective social distancing.
Large meeting rooms would have to change as well. In huddles of 10 to 14 people around one long table , people would have to ensure that they are seated further apart from each other. Wherever possible, such meetings could be broken up into smaller meeting groups of 3 to 4 people instead.
Companies could also experiment with a range of working formats. Alongside trendy configurations of small group tables, booths and sofa or beanbag corners, single occupancy work booths with dividers between each person may be making a comeback.
Reconfiguring office layouts may also be complemented by adopting split-team work schedules, ensuring lesser people in the office by only getting the right people in the office at any one time. I.e. people having meetings on that day, people whose roles require a multiple-monitor set-up that cannot be replicated at home.
Invest in high-quality filtration technology and sanitation tools.
Disinfectant wipes, hand sanitizers and disinfectant sprays will join the list of top office supplies to buy, and will be as much an office staple as printers and stationery.
Workplaces will have to implement increased sanitation of high-touch surfaces such as door handles, remote controllers, phones, keyboards and table tops. Frequent sanitation of shared facilities like restrooms, especially toilet units and lids would occur.
Air filtration systems too should be a consideration to employers. With some air filtration systems being engineered to destroy viruses, bacteria and other harmful airborne particles, these systems could go a long way in protector employees' health at work.
Enhance in employees' workplace UX.
The post-coronavirus workplace could see some nifty modifications to a worker's workplace experience. In order to minimise risk of touching potentially contaminated surfaces, touchless technology could be employed. This could mean installing smart lighting technologies, and doing away with keypads when entering an office, replacing it instead with Face IDs.
Welfare bundles and gifts to employees may be reinvented. Alongside welfare pack classics like chocolates, healthy snacks and essential stationery, companies may start providing complimentary sanitation products like personal hand sanitizers and face masks.
New Urban Living Norms: Re-examining the logistics surrounding physical workplaces
Apart from the physical office space, other aspects of going to work will change in the post-lockdown world.
Public transit systems like buses and train networks risk becoming hotspots for transmission of the coronavirus. Previous norms like standing elbow to elbow in a crowded bus or squeezing into a crowded train carriage at peak hour will now be viewed with apprehension.
Choosing mixed-use developments like the Global Tech Exchange (GTEX) to set up one's office could be a win-win situation. Developments such as GTEX would consist of a retail mall in addition to office spaces and more.
Such an arrangement conveniently provides office workers easy access to a wide range of food and beverage offerings without the added hassle and worries of driving or getting the train.
Given the increased risk of virus transmission on public transport, it is quite likely that more city dwellers may be considering alternative modes of transports wherever possible – these could mean biking to work, commuting via scooters, or even walking to work if one's workplace is just a few blocks away.
Integrated townships like the Phnom Penh City Centre project (PPCC) could present themselves as an ideal arrangement. These integrated townships are self-sustaining, and function as a city within a city.
With green spaces, broad lanes, and office buildings, amenities and residential blocks in close proximity with each other, public transport ceases to be a necessity.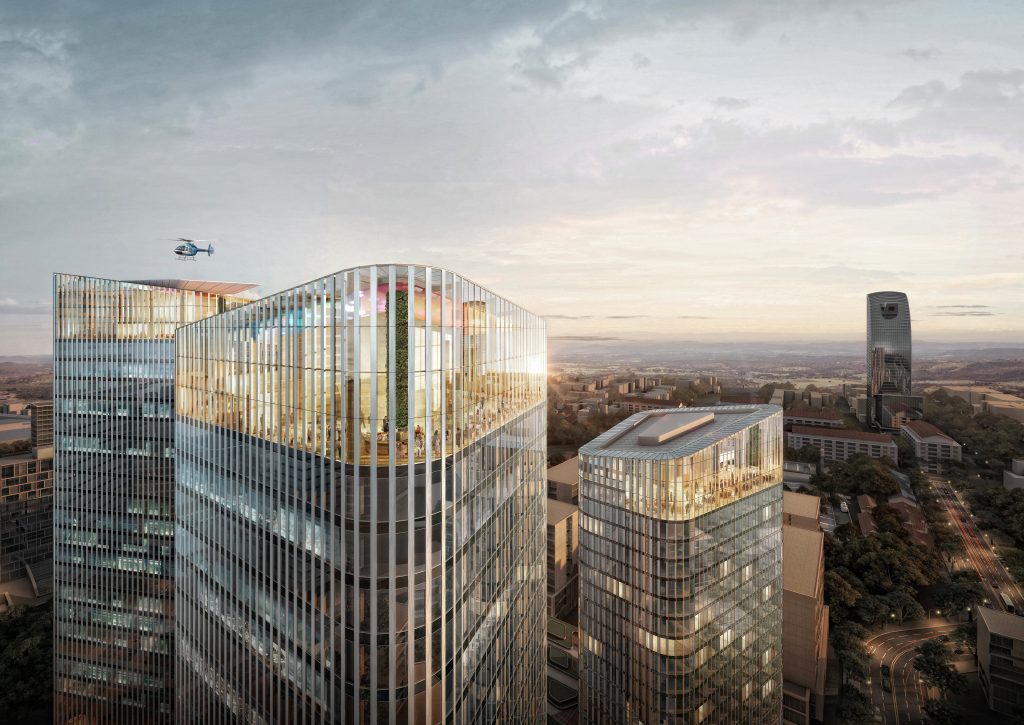 More about the Global Tech Exchange (GTEX)
The GTEX is a brand new mixed-use development located in the heart of Phnom Penh's 111.6-hectare integrated township, the Phnom Penh City Centre.
The development is designed by reputable international architectural firm AEDAS, and will be a sophisticated addition to the skyline silhouettes of Cambodia's capital city.
The project is jointly developed by Kingsland Global, a real-estate group specialising in commercial and hospitality development across Asia, and leading Phnom Penh premium real estate developer Shukaku Inc. Shukaku is the master developer of the project, and is leading the transformation of Phnom Penh's landscape into a modern hub.
Slated for launch in 2022, GTEX will consist of 2 office towers, a hotel tower with a convention centre, an IT and media hub, and two storeys of retail offerings.
To date, leading financial services company Prudential has come on board as anchor tenant for Office Tower 1, and the hotel tower is set to be helmed by world-class hospitality company Hilton Hotel Group.