SECURITIES and Exchange Regulator of Cambodia (SERC) yesterday signed a Memorandum of Understanding (MoU) with the foreign firm Binance Capital Management Co Ltd to start digital asset market development in Cambodia with a pilot trading platform.
Sou Socheat, Director General of SERC, signed the MoU with Gleb Kostarev, Binance's regional head in Asia.
The MoU will enable Binance to provide technical consultancy, knowledge, experience and skills to operate the pilot trading platform called "FinTech Regulatory Sandbox", which is the early stage of digital asset market development that will be another investment option for investors in Cambodia's securities market, Socheat told Khmer Times.
"They will explain to us about digital assets and the types of digital assets … and in order to regulate this new type of securities, what the regulator must have … such as what regulations, what policies and what we need to prepare … So, today, we want to stress that we start to work with a big partner," he said.
Binance will bring its 10 years of experience in the digital asset industry to assist SERC to understand the technical concepts, types of digital assets, trading systems and risk management systems in accordance with rules and regulations including preventing technology, management and supervision risks to protect investors, according to Socheat.
SERC has drafted a package of regulations but needs a group of experts to review and provide feedback for comprehensive improvement before they are imple- mented and a pilot project to test the digital asset market operation, Socheat said. He added that the sandbox would take at least six months or longer, depending on the number of risks.
Cambodia currently has equities, bonds and derivatives market, while a collective investment scheme market is under development and will be officially put in place for operations soon now that the regulator has plans to develop the digital asset market after comprehensive study and training are completed, he added.
"We will strive to complete it as soon as possible so that we will be able to diversify products for investors to gain benefits, but we do not want to release any investment options that make investors face high risks. So, we need to start one by one with support from this company" he said.
Digital assets include different assets based on a blockchain such as NFT or Non-Fungible Token, which is financial security consisting of digital data stored in a blockchain and its ownership is recorded in the system and can be transferred by the owner, allowing this asset to be sold and traded, Kostarev explained.
Binance has the biggest digital asset platform in the world and operates in more than 100 countries, but the industry is very new and young and appeared just 10 years ago, said Kostarev, adding that more regulations, education and protection for investors and regulators are needed. "Besides NFT, other digital assets are like video, audio and music tracks," he said.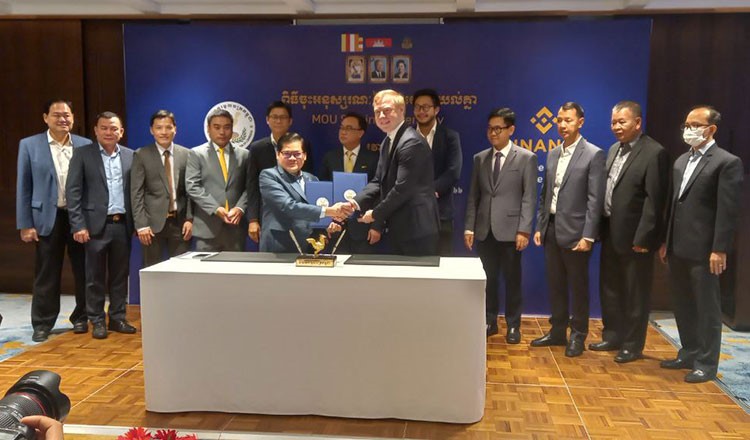 Director General of SERC Sou Socheat (left) shaking hands after signing the MoU with Gleb Kostarev, Binance's regional head in Asia in Phnom Penh.
Kostarev added that after the MoU was signed, Binance will explore opportunities in the sandbox and share insights and visions of its experts regarding the regulations that SERC has developed with technical recommendations for the securities regulator to make a decision in terms of revision before implementing it.
"I think the sandbox is really very important to show the securities regulator how to work in, where the risks are, how they can be addressed, especially the specific risks in Cambodia's digital asset market like currency rate, so on and so forth," he said.
Leon Sing Foong, director-regional
GM APAC, told Khmer Times on the sidelines of the event that Cambodia's digital asset market is in the early stage that requires more investment and the progress of developing legal frameworks will be achieved hopefully by the end of this year.
"I think what is needed in Cambodia is to invest in the education of regulators and key business leaders and when education is ongoing, leveraging things like the sandbox to be ready and easy to understand and legal frameworks that focus on protecting consumers, market development and maintaining market principles," the expert said.
Source: KhmerTimes
"It is really great to see that Cambodia's securities regulator is interested in how to make regulations that will balance and take into consideration of businesses and protection of customers. So, we are glad to help Cambodia to establish or write legal frameworks for the digital asset market here," he said.